Healthcare Laundry Experts
Helping To Improve Your Facility's Image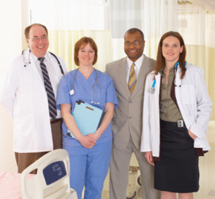 As a decision-maker at your healthcare system or facility, you are busy enough without having to worry about properly balanced and professionally laundered inventory. That's why we have developed solutions for you that inspire patient confidence in your facility, while taking the day-to-day burden of inventory management off your hands. This allows you to devote more of your time where it belongs -- providing exceptional care to patients.
To learn more about ImageFIRST, visit the following links that highlight our areas of specialization, commitment to service excellence, client feedback and other features of our services.
---
At ImageFIRST, we deliver healthcare laundry service excellence and assurance through the following:
Customized pick-up and delivery schedules that fit your schedule
Unobtrusive delivery to your designated storage area
Accurate inventory quantities through an individually managed program
Immediate replacement of soiled product with clean product
Rush delivery service within 24 hours
Easy-to-read invoices handed to you at every visit containing the count of product picked up and delivered
Online Customer Information Center for simplified inventory and budget management
---
ImageFIRST ensures excellence in healthcare laundry services through our commitment to going above and beyond for the customer. When you partner with us, the burden of healthcare laundry and linen management is taken off of your hands and your busy schedule.
Remarkable services like our 5-Point Product Quality System program, BioShield Protection Process and a dedicated Customer Advocate who's always within reach, even for same-day linen rescue, ensure you the highest quality, bright-white and sanitized linens and garments with inventory management that's always on point.
Poor quality linens and garments lead to negative patient impressions that come between you and the quality of care you provide. ImageFIRST is dedicated to supporting you with all of your healthcare laundry needs.